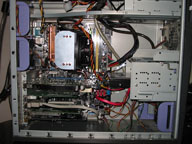 Ordered sunday evening, the new parts for my dualcore-system arrived tuesday morning and everything went smooth. Assembling went easy as suspected and the system did it's first boot and Windows XP installed without any problems.
But what I'm most happy with is the noiselevel of my new PC. My old parts already were rather silent, but this time it's so quiet that you almost can't hear it, no matter if it's just plain working or under full load when e.g. gaming modern games.
And in case someone is interested in this, here is a list of the hardware I've put into my system :
Motherboard : ASUS M2N-SLI Deluxe For years I've been using MSI boards, but some of the new AM2-Boards from MSI had serious problems in their first revisions (and sadly I built one of those into a system I've build for someone else) and had to be RMA'd. So this time I went for an ASUS board, and the M2N-SLI is a great board. Great layout, passive cooling, plenty of slots and connectors and the box was packed with accessoires. The BIOS gives you a lot of options to play with and it has plenty of connectors for onboard fans and also is one of the few AM2-boards that still has 3 normal PCI-Slots, which (as you cann see on the shot above) I really needed.
Graphicscard : Leadtek 7900GS TDH Graphicscards nowadays usually are very similar, there are mostly no real differences between the vendors like it used to be some years ago. But I have built some systems with recent 7900 cards and they all had an extremly noisy reference cooler (noisy isn't the right word, it's almost horribly loud) and since I wanted a silent system I went for a card with special cooling and the cooling solution on this Leadtek 7900GS is totally silent. Although all other coolers in the PC are already rather silent you won't hear this one at all, at first I even stuck my finger into the cooler to make sure that it's running. And the great thing is that the cooler won't get louder under load! And as one is used from Leadtek, the package included a lot of additional stuff. There were 2 full games (Serious Sam 2, Spellforce 2, which aren't that old), some software (drivers, DVD player, etc.) and the usual amount of cables and adaptors. Great buy for just 177€.
CPU : AMD Athlon X2 4200+ Although Intel is leading in terms of speed right now with their Core DUI, I went for an AMD Dualcore. The reason is simple : Intel is still expensive, especially if you want a good board. And since I'm no hardcore gamer, and because for modern games the GPU is more important, I went for this CPU for ~180€.
Memory : G.SKILL DDR800 CL5 1024 MB Nothing special here. DDR2 sadly has become rather expensive over the last weeks, so I only bought 1 GByte of memory (will upgrade next month or so). The module has a nice heatspreader, but what's more important is that the board has no problems with it. If you look closer at the AM2-platform, you'll notice that most boards are very picky about memory.
CPU-Cooling : Arctic Cooling Freezer 64 Pro I already used this one for two different systems I've built for friends, and it's a very silent CPU-cooler, so I went for this one too. And with 16€ it's also very cheap.
HDD : Maxtor Diamond MAX 10, 16 MByte cache, 300 GBytes I've been using maxtor drives for years and up 'till no not one single drive failed on me, so I deciced to stay with maxtor. It's fast, has plenty of space and is silent even under full access. And it was only a mere 85€.
So much for my new PC. I've been putting it under stress for two days now and not one single problem or crash, so I can say that it's stable. Performance is also what I suspected, and it's a huge difference to my two year old system (Athlon XP2600+, GF6800).